Service Center in Kokomo, IN
Express Service - No Appointments Necessary
Routine vehicle maintenance is a chore you don't want to neglect. We know it can be challenging to stay up to date on service tasks, but the Kokomo Honda team is here to help you. Your car will perform better, last longer, and be worth more when it receives timely upkeep. More importantly, reliable Honda service will keep you and the ones you love safer on Kokomo, IN roads and beyond.
Why Service With Us Vs. Other Service Centers?
Other service centers near Kokomo and Lafayette can't match our dedication to customer satisfaction, nor our technicians' skill. Our team is committed to excellence, and we staff a team of experts who are ready to take on any service, maintenance, repair or part-related task without an issue.
Our service center is conveniently located at our Honda dealership in Kokomo. We're proud to host a state-of-the-art facility that's stacked with the equipment and technology other area service centers don't have. That's why we always recommend servicing your Honda or your car at the dealership versus a smaller facility.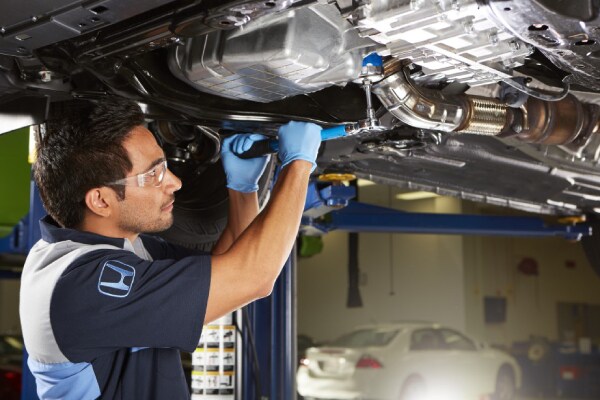 Tire Care
What's under the hood matters, but let's start from the ground up. You need properly-inflated tires with good tread to ride in comfort and safety. You rely on your tires to maintain adequate traction and handling on Kokomo, IN roads. To keep them in tip-top shape, check your tire pressure regularly, about once a month. Tire rotation and balancing will ensure your tires wear evenly and extend their life. If you need a new set, our mechanics will install them for you.
Brake Inspection
Brake systems are complex, with many interconnected parts. Our expert technicians provide reassurance and confidence to Fishers drivers by providing inspections and addressing issues like worn components or leaks.
Oil Change
Regular oil changes according to manufacturer recommendations are essential to the performance and condition of your engine. Maintaining adequate levels of clean oil ensures moving parts stay lubricated and regulates engine temperature. Your engine will run more efficiently, and you can prevent overheating by having your oil changed regularly.
Wiper Blade Replacement
Wiper blades are made of rubber that wears down over time and with repeated use. Worn blades leave streaks on your windshield that can greatly reduce visibility. You should replace them at least once a year. Twice may be necessary if your wipers receive a lot of use.
Bulb Replacement
You'll also want to check your lights and turn signals every so often to be sure they're working as they should be. It can be dangerous to drive without sufficient lighting. It will be hard for you to see if a bulb is burnt out, and others on the road may not be able to see you.
Battery Testing
Regularly testing your battery's charge can save you from being stranded when it dies unexpectedly. There may be no warning signs for a battery that is losing power in many cases. You'll likely need to replace your battery every three years or so. You can have your battery tested quickly and easily. It's a preventative measure that can save you a lot of frustration.
Air Filter Replacement
Your air filter should be changed at least every 15,000 to 20,000 miles to perform its best. This filter catches the debris that enters your vehicle's engine. When the filter is dirty or clogged, your engine won't be able to function efficiently. Your filter should be checked with every oil change to ensure it's doing its job.
Inspection of Hoses and Belts
The hoses and belts in your car's engine gradually wear down due to heat exposure and friction. They will become cracked and brittle, making them prone to breaking. Something as small as a broken timing belt can not only lead to a breakdown, but repairs will be expensive. The same holds for leaking hoses.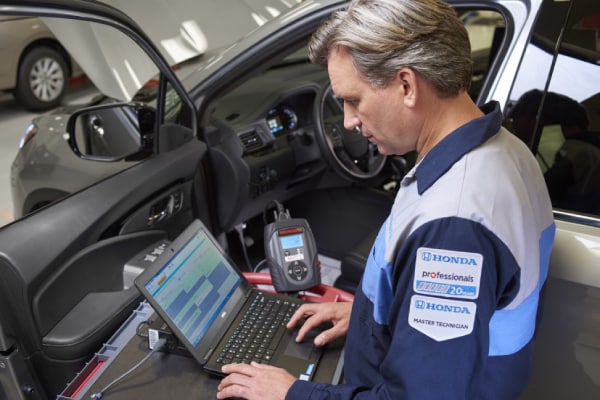 Our Service Menu
Because we offer a full-service menu, there's nothing our team can't take care of for you. We recommend scheduling routine service appointments along with factory-required maintenance. The more often you schedule service appointments for your car, the less likely you'll run into surprise issues. Regular service appointments allow our team the chance to spot any issues early on, before they develop into something more dangers and costly.
Drivers near Kokomo can schedule oil changes, tire rotations, front-end alignments, fluid flushes, state inspections, brake inspections, battery service, brake service, transmission service, air conditioning and heating system service and repair, collision repair, and any type of part replacement.
Visit Kokomo Honda Today!
Has it been a while since your last Honda service? If so, schedule an appointment online, and our technicians will take care of the maintenance tasks you need. Not sure which services to schedule? Give us a call, and a team member will be happy to help. Whether you're in Fishers or Lafayette, IN, contact us today!