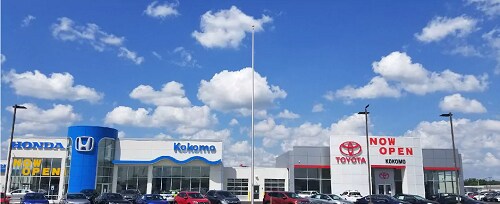 If you're in the market for a new car, truck, or SUV or need auto service, you owe it to yourself to visit Kokomo Auto World, the premier auto dealership in Kokomo, Indiana. We are so much more than a place to buy or service your vehicle. Family owned and operated for over 31 years we are part of the fabric of our community. So why shop with Kokomo Auto World?
Kokomo Auto World is Part of the "Fabric of the Community"
We are thankful for each and every Kokomo Auto World customer and try to show that by giving back to the community. We bring our team together to support Bridges Outreach, United Way of Kokomo, The Rescue Mission of Kokomo, and The Humane Society (look for our featured pet for adoption every Sunday on our Facebook page).
Shop Kokomo Auto World's Great Selection of New and Pre-Owned Cars, Trucks & SUVs
You'll find a great selection of new and used cars in Kokomo, IN, at Kokomo Auto World. Choose from our wide selection of popular new Honda and Toyota models like Accord, Civic, Odyssey, Camry, Corolla, and Rav4. With our experienced staff, including over 10 individuals who have been with Kokomo Auto World for over 10 years, you have our personal guarantee that we will do everything possible to put you in the vehicle that is best for you at the very best price. Plus, we have a robust selection of used and certified pre-owned Hondas and Toyotas.
Come to Kokomo Auto World for Your Auto Service Needs
When you buy a vehicle, you are counting on it to provide you with reliable transportation for years after purchase. While our quality new vehicles are built to last, they will need occasional service to continue to perform at their optimal level.
That's where we come in. The Kokomo team of certified technicians has years of experience and can provide you the efficient and accurate service you desire. Our quest is to provide exceptional service every time, and in those few instances where we may fall short, we will do everything we can to make it right for our valued customers.
Visit Kokomo Auto World
Stop in at our brand new state-of-the-art showrooms at Kokomo Auto World today and see our new Honda inventory, new Toyota inventory, or used vehicles. Kokomo Auto World is standing by to provide you with exceptional support and service for all of your vehicle needs. We want customers for life, so we always strive to be kind, thoughtful, and caring in every situation. That's why "The Place To Go Is Kokomo"!